July 19th, 2019
In September of 2018, the Gold Rush Cycling Club hosted a great event called the Gourmet Velo. This fun group bike ride took riders all over the paved roads of Quesnel with frequent stops for delicious local treats and finished with a celebration feast at Long Table Grocery in Quesnel.
A gourmet bike ride is a great way to combine two of Quesnel's most popular passions: exploring the outdoors and enjoying local food. There are so many farm-stands scattered on the pretty back roads of Quesnel that designing your own gourmet bike ride is a fun and delicious independent adventure.
This route involves 76 km of pedaling, so it would make a leisurely all-day ride. You will want a bike in good working order (especially gears and brakes), a well-fitting helmet, and a full water bottle.  So, round up your friends, pump up your tires and stash some cash in your panniers for this satisfying day trip. This itinerary can be done in either direction, just keep in mind that Quesnel is a river city, so whenever you leave the city, you'll go up a hill and when you return you'll glide downhill. Take your time and enjoy the sights and sounds of our agricultural countryside.
Image
Start your trip at Edgewood Farm (1215 Maple Drive) in South Quesnel and pop inside to EdgeWood Coffee & Co. to fuel up on everyone's favourite energy drink: coffee! At the roadside, their Honesty Stand is stocked from summer to fall with gorgeous fresh flower bouquets and seasonal veggies, choose your favourites and then ride west on Maple Drive into Quesnel, via one of the most fun downhill rides in Quesnel. At the traffic circle, turn left over the Quesnel River Bridge, then another left onto the historic wooden walking bridge over the Fraser River. Cross the street and angle up to Marsh Drive which becomes the West Fraser Road as it leaves Quesnel.
In 12 km, you will turn left into the driveway for Koster's Farm & Garden (1559 West Fraser Road). They're famous for their amazing fields of u-pick raspberries but they also have seasonal produce picked for you, from springtime asparagus to root vegetables in the fall with berries and beans in between. Load up your veggies and ride back to West Quesnel (this direction has more downhill).
Image
Before crossing the Fraser River, turn right into the underpass and ride up North Fraser Drive/Blackwater Road. This is the longest uphill of the day, but it also offers sweeping Fraser River views and little traffic, so enjoy it! Our next stop is in 10 km at the Bouchie Lake Country Store at 2338 Bonny Road. Eggs, dried local mushrooms, fibre arts, birch syrup and wild jams and syrups are some of the rotating seasonal specialties produced here and they are famous for their Cariboo Apple Cider Vinegar. This little shop has a lot of personality, so take the time to stretch your legs and explore the quirky finds. Grab a cup of coffee here if you need a boost for the rest of the trip. Tip: Since you'll be coming back this way, you can stash your goodies here, or do your shopping on your way back to save carrying the weight around for the next leg of your ride.
Image
Continue a further 6 km on the Nazko Road to Long Road and turn left. A short 1 km stretch of gravel road will lead you to Petty Catwater and their summer Jam Stand. Their kitchen is always producing creative combinations that will surprise your taste buds. You can't leave without a jar of mid-summer cherry and fennel jam. Or bring home some toasty granola, or savoury salsa and pesto. They also offer garden tours. After all of the climbing, this is a great spot to take a break and stroll through the gardens. If you call ahead (778-766-5243), Jenn will even create some bike trip-worthy lunch foods for you to savour in the gardens. 
Image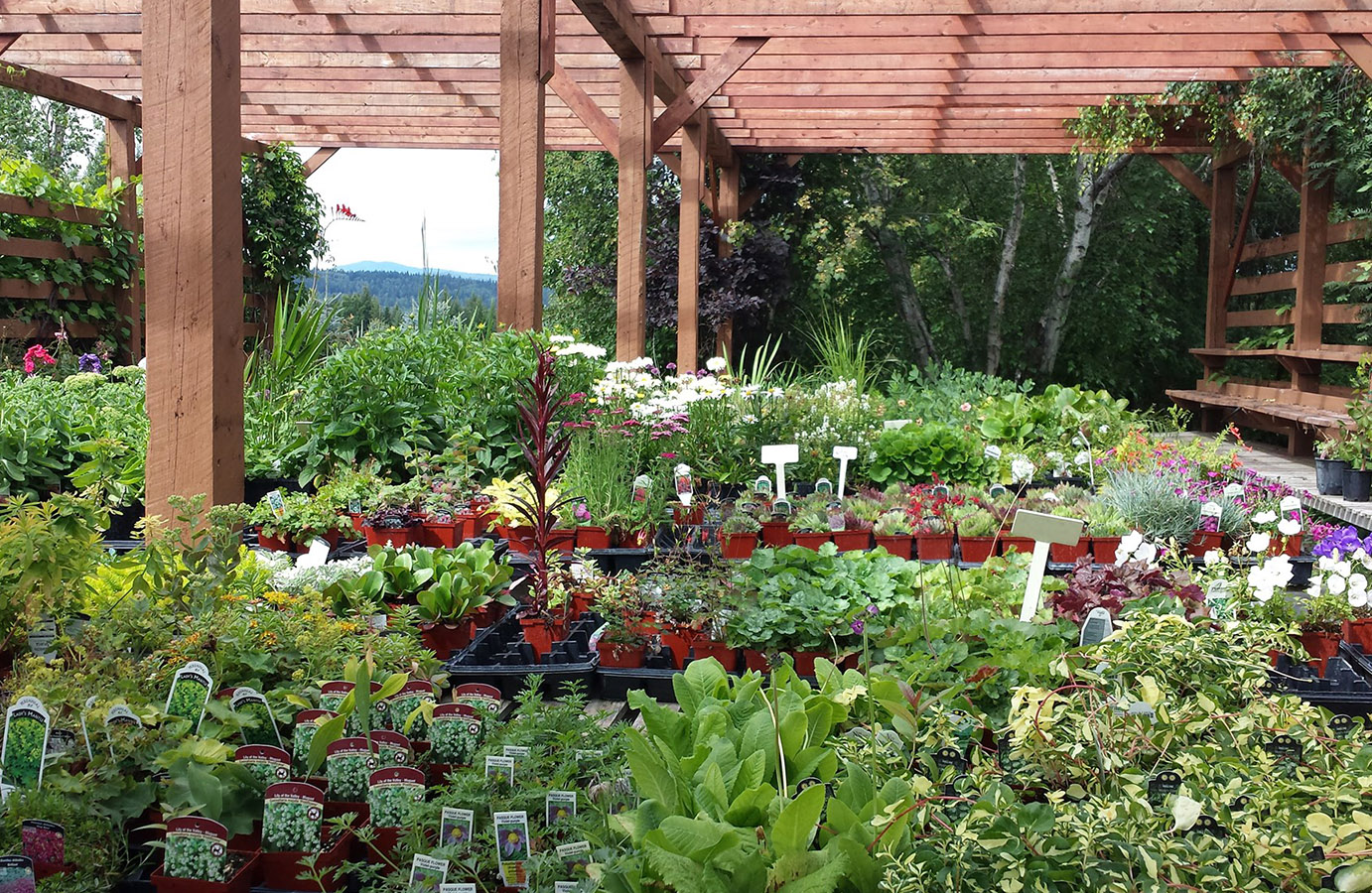 It's smooth sailing now, which is good, since your bike may be loaded to capacity with beautiful local produce. Retrace your tire marks back to Quesnel and up the hill on Maple Drive. Catch your breath at the intersection to Red Bluff Road on this 33 km stretch from Petty Catwater to Richbar Golf & Gardens. Turn right onto Red Bluff Road and enjoy this rolling 4.5 km section of quiet residential road. Turn right into The Nursery and tuck your bikes away while you wander the greenhouses for some plants and herbs to recreate your own gourmet experience at home. If you're ready for more refreshment, pop into their café for drinks and a meal or snack.
When you're ready to tear yourself away from this peaceful green haven, return the way you came, this time turning right onto Maple Drive. You'll be back where you began at Edgewood Farm in 5.5 km.
By Brenda Beatty